Eine gute Woche nach dem Ende der ICCL Summer School in Dresden ist es Zeit für ein persönliches Fazit. Die erste Woche war Themen wie Description Logic und theoretischer Informatik gewidmet. Harter Tobak für einen Historiker… Aber zumindest weiss ich jetzt, wozu die DL-Algebra nützlich ist und dass ich sie nicht unbedingt brauche, wenn ich meine Ontologie in OWL schreibe. 🙂 Die zweite Woche sollte praktischer ausgerichtet sein – leider hat sich diese Hoffnung nicht erfüllt. Sehr interessant und hilfreich waren für mich die Vorlesungen von Lehmann und Hitzler, aber auch Eiter und Janovicz haben mir gut gefallen. Meine ursprüngliche Erwartung eines workshop Charakters der Summer School mit Gruppenarbeit, Übungen und dergleichen hat sich leider nicht erfüllt. Angenehm aufgefallen ist mir hingegen der ausgewogene Stundenplan (1h Vorlesung, 1/2 Stunde Pause). Das war sehr angemessen. Als wirklich schön und sehr kommunikativ haben sich die Exkursionen erwiesen – aber dafür war ich nicht nach Dresden gekommen. Alles in allem bleibt ein gemischtes Fazit zurück: ja, es war lehrreich und teilweise auch brauchbar für meine Arbeit, aber insgesamt blieb die Veranstaltungen weit hinter meinen (uninformierten) Erwartungen zurück. Ich hätte mich vorher etwas genauer informieren sollen, worfür die Abkürzung des Instituts steht und daraus die richtigen Schlüsse ziehen sollen. Ich bin halt doch eher Praktiker, was die Informatik angeht. Dresden allerdings ist immer eine Reise wert und die Rückfahrt von der Exkursion zum Elbsandsteingebirge an der Elbe entlang war schon traumhaft. Das sollte ich nochmal in Ruhe machen, wenn alle Ontologien geschrieben und Internetportale gelauncht sind…
Im folgenden poste ich einige Links und Notizen, die mir während des Kurses besonders aufgefallen sind. Das Kursprogramm findet sich unter:
http://www.computational-logic.org/content/events/iccl-ss-2013/program.php?id=24
Dort auch zumeist Links auf die Folien der Vorlesungen.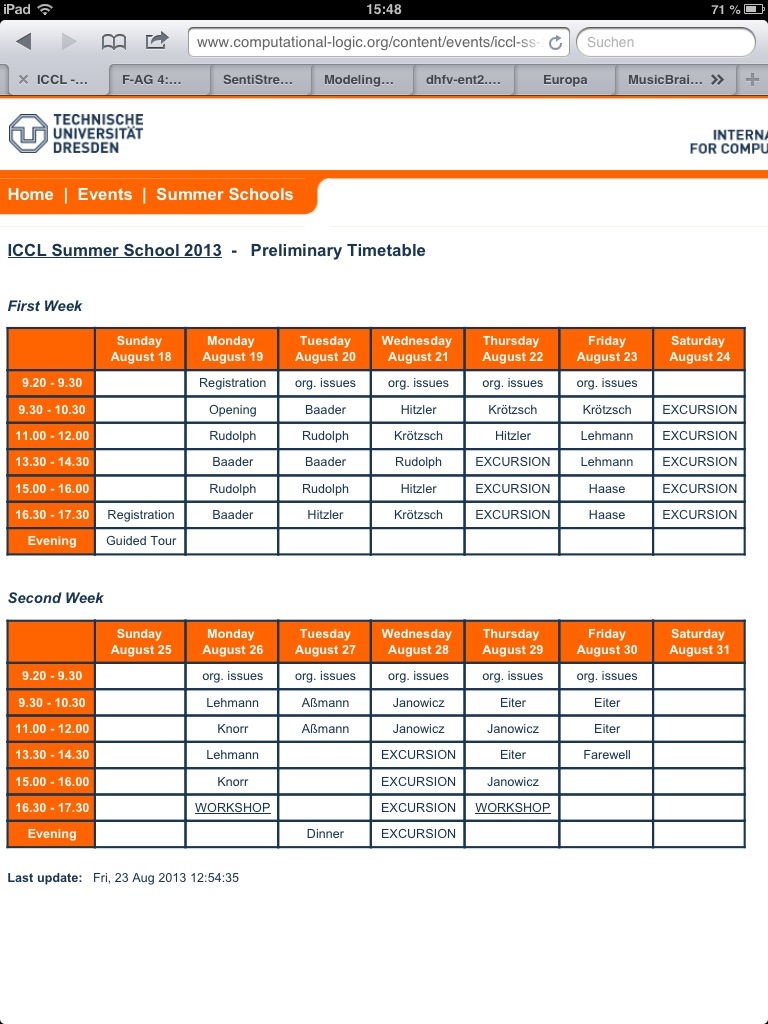 ICCL Summer School 2013 – Course Program
Ontology-based Model Checking Applications
Uwe Aßmann (Technische Universität Dresden, Germany)
Franz Baader (Technische Universität Dresden, Germany)
Datalog-Based Data Access over Ontology Knowledge Bases
Thomas Eiter (Technische Universität Wien, Austria)
Peter Haase (fluid Operations AG, Germany)
Pascal Hitzler (Wright State University, Dayton, Ohio, U. S. A.)
Geosemantics, Linked Spatiotemporal Data, and Geo-Ontologies
Krzysztof Janowicz (University of California, Santa Barbara, U. S. A.)
Matthias Knorr (Universidade Nova de Lisboa, Portugal)
Markus Krötzsch (University of Oxford, U. K.)
The Linked Data Lifecycle
Jens Lehmann (University of Leipzig, Germany)
Sebastian Rudolph (Technische Universität Dresden, Germany)
Workshop Presentations
The workshop consists of short presentations about the research work of selected participants.
Sandeep Kumar (Indian Institute of Technology, India): Semantic Web Service Selection Models
Silvia Giannini (Politecnico di Barri, Italy): Towards a unified framework for distributed data management across the semantic web
Anton Dergunov (Lobachevsky State University of Nizhny Novgorod, Russia): Knowledge Representation for Performance Analysis
Marzieh Bakhshandeh (Instituto Superior Técnico, Portugal): On the Use of Ontologies to Specify and Integrate Enterprise Architecture Models
—————————————————————————
Notes and Links (ICCL_Summer_School_notes)

Introduction: Pascal Hitzler
– Importance of Ontologies… Making sense of the Data (Big Data)
————————————————————————–
Rudolph: Einführung RDF : http://semantic-web-grundlagen.de/wiki/SWebT1_WS12/13
Baader: Einführung DL http://arxiv.org/pdf/1201.4089v3

————————————————————————–
Jockers, Matthew. Macroanalysis: Digital Methods and Literary History. University of Illinois Press, 2013
Alan Rector,Nick Drummond, Matthew Horridge, Jeremy Rogers., Holger Knublauch, Robert Stevens, Hai Wang, Chris Wroe (2004) OWL Pizzas: Practical Experience of Teaching OWL-DL: Common Errors & Common Patterns (2004) in E Motta and N Shadbolt, et al. (eds) Proceedings of the European Conference on Knowledge Acquistion, Northampton, England, 2004, Lecture Notes on Computer Science LNAI3257, Springer-Verlag.pp 63-81
—————————————————————————
http://www.semantic-web-journal.net/
—————————————————————————
http://korrekt.org/page/OWL_2_Profiles
http://sparql.org/query-validator.html
————————————————————————-
http://protegewiki.stanford.edu/wiki/Protege4UserDocs
protegewiki.stanford.edu/wiki/Protege4GettingStarted
———————————————————–
http://code.google.com/p/elk-reasoner/

http://euclid-project.eu/
———————————————————–
Linked Open Vocabularies: http://lov.okfn.org/dataset/lov/
—————————————————-
LIMES Interlinking Framework: http://aksw.org/Projects/LIMES.html
SILK Framework: http://wifo5-03.informatik.uni-mannheim.de/bizer/silk/
NLP2RDF: Uni Leipzig: http://persistence.uni-leipzig.org/nlp2rdf/
————————————————
Ontology repair: http://ore-tool.net/Projects/ORE
————————————————
Faceted browsing: https://github.com/GeoKnow/Facete
————————————————
http://aksw.org/Projects/AutoSPARQL.html
BOA = BOotstrapping linked datA:

http://aksw.org/Projects/BOA.html
BOA is an iterative bootstrapping strategy for extracting RDF from unstructured data.